The L-shaped desk is one of the more popular styles of desk.  They allow for a more open feel in an office or workspace.  We offer many different styles of L-shaped desks and most can be outfitted with bookcases and other office storage to create a complete work space where you can store files, hide computer wires, and have enough desk space to work efficiently.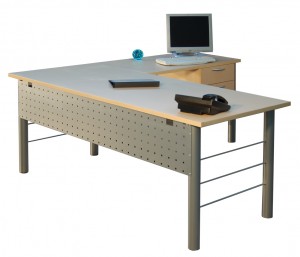 If you are looking for a modern office look, check out our Metal Leg L-Shape Desk pictured above.  We can add useful features to this desk such as a grommet to hide cords.  This desk is a sleek L-shape desk that has an industrial feel.  Many of our customers are looking for this type of modern desk to help create a modern feel for their office space.  Adding our metal storage cabinet would help add storage and maintain the modern office feel.
Visit our MN and WI office furniture showrooms to view the array of L-shape desks we have to offer at Podany's.  Not able to make it to a showroom?  Fill out our contact form and we will get back to you soon.