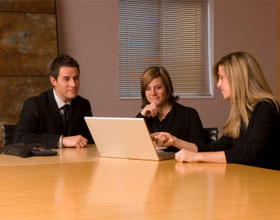 Purchasing new office furniture and equipment can be a major decision. That's why Podany's offers a few simple tips to make sure you make the right choices for your organization or office:
1. Don't cut corners on buying office furniture. If you are just starting out and your budget is small, buy a few solid, quality pieces that will last. Add additional pieces as your budget grows.
2. If your budget is tight, think of how you can use one item for multiple uses. For instance, will your file cabinet also double as a tabletop to hold your fax/copier/printer?
3. If you are buying for your home office, walk through the room and visualize the layout: Where are the phone jacks and electrical outlets? Where is the best place for a desk? Is there enough light or do you need to add floor lamps? What are the colors of the room?
4. Take measurements of your room before you come into the showroom. It will save you a step and help you know what will work best in your space.
5. Consider how your office will function. A beautifully appointed office is great, but if it's not really functional, you'll find yourself more frustrated than inspired.
6. Consider your health. If you have back, neck, or posture problems, think of ergonomic office solutions.
7. If buying office furniture makes you break out in a cold sweat, consider leasing furniture. It's a more budget-friendly commitment, and we can help you find the best lease for your needs.
8. Remember: Like Your Job, Love Your Office.