Classic style furniture could share some qualities with a valuable aged wine: no matter what era it came from, it may never be out of fashion. Well-designed office furniture can show sophistication and professionalism.
Many trends come and go, but classic style furniture is a never ending trend with its sophisticated style and professional look. These pieces are the perfect office furniture for any business or law firm that needs to look professional.
Podany's carries a perfect set for an office that meets a person's taste for class and comfort. This furniture is available in the colors shown below or in black.
The traditional button swivel chair makes a perfect executive chair and allows for easy movement around the desk. Also, it allows you to adjust height and tension to allow for more comfort.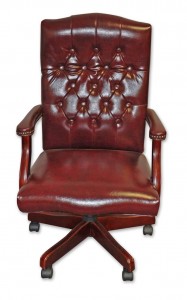 A matching product to the traditional button swivel chair is the button leg chair which would go perfectly in front of your desk for clients and co-workers to use.
This office furniture  is perfect for business or law firm use, and could be the perfect holiday present for a loved one. Furthermore, picking out something like this for your boss is a sure fire way of showing your appreciation.
We always recommend stopping by Podany's showrooms in Minnesota or Wisconsin to look firsthand at these chairs, and test their comfort. Don't forget to take a look at the office desks to go with your new traditional button chairs.